Tradition
Our methodology is one of understanding a manufacturer's heritage - the passion, the history, the tradition. We then initiate a dedicated testing and development programme to manufacture a sports exhaust with a sound in keeping with the motorsport heritage of old. Harking back to the glory days of unrestricted sound and un-metered gas flow.
Modern day supercars, such as the Ferrari 599 or Maserati GranTurismo, are re-united with past glories once they are fitted with a Larini 'Sports' System.
Equally, classic supercars such as the overtly complex, future inspired, Lamborghini LM002, are also transformed thanks to our dedication to engineering efficiency and acoustic pleasure.
Sophisticated Sound
A Larini 'Sports' System is designed to offer a highly sophisticated and tuned sound that increases exponentially with throttle opening.
By utilising developments such as dedicated sound chambers and octave band frequency monitoring techniques, our technicians are able to develop Systems which produce the Larini 'Note' under acceleration, as opposed to the drone and excessive volume often present in other performance systems.
Where a Larini 'Sports' System does have more volume than the original, it is not offensive. The volume increases with the revs so as not to intrude into the cabin, ensuring a satisfying sound outside during acceleration. This is owed to the critical balance attained between improved sound and volume control at idle, full throttle, and steady cruising.
Combining subtlety with aggression enables a Larini 'Sports' System to sound phenomenal when pushed hard, yet remain perfectly practical for everyday use.

Enhanced Performance
A vital balance between lower back pressure level and flow rate is ensured for optimal performance - without affecting drivability.
This is achieved by combining the best qualities of racecar exhaust design and standard vehicle exhaust design to produce some truly innovative and breathtaking Systems. Developments such as re-designed internal box chambers, dedicated performance chambers, straight-through internal pipe work or larger diameter pipe work (where necessary), help emit exhaust gasses quicker - with a reduced build up of backpressure, allowing the engine to 'breathe' and perform better.
Through a constant process of design and development, our technicians deem which alterations are most suitable for a particular vehicle model. Selecting the right modifications is a complex task, as every engine has vastly different characteristics. Our team has the experience and skills to do this.
Typical end results include a more free-revving engine, improved throttle response and an increase in torque. The characteristics of modern day driving conditions deem these enhancements the most valuable.
Refinement
Other manufacturers are happy to offer oversized pipe work, massively increased volume and huge chrome tips to entice customers. But this approach is not ideal, and can often lead to inefficient performance and a poor experience.
A Larini 'Sports' System, however, offers a combination of style, torque and acoustic pleasure.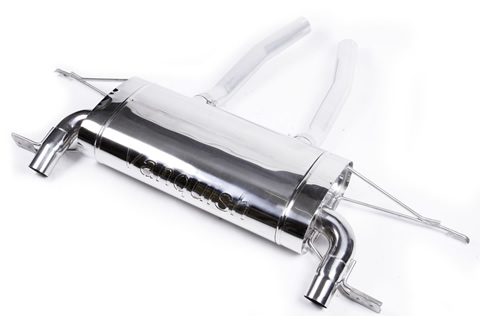 Every Larini 'Sports' System is supported by a Larini Systems Warranty.
Larini 'Club Sport' System
For certain race track bred/focused supercars we manufacture lightweight 'Club Sport' Systems. A Larini 'Club Sport' System is a precision crafted, lightweight, stainless steel, high performance exhaust system. Offering all the benefits of a sports system, while aiding even higher vehicle performance gains, through lightweight design.

We employ skilled craftsmen devoted to the construction of the finest factory manufactured lightweight stainless steel performance exhaust systems. Every measure is taken to ensure that each Larini 'Club Sport' System offers an unrivalled level of performance, fit, and sound - all with a world-class finish.
Incorporating smaller and lighter box construction for reduced overall weight, further benefits naturally include a glorious sound – which will still increase and decrease with revs. Fit and finish are better than original.
Despite being lightweight, performance focused exhaust systems; Larini 'Club Sport' Systems do not vibrate or produce excessive volume at idle or cruising speeds.
For those looking to explore the realms of lightweight performance, whilst improving on the longevity and aesthetics of their standard exhaust system, a Larini 'Club Sport' System is the perfect choice.
Every Larini 'Club Sport' System is supported by the Larini Systems Warranty.

Please note: Due to potential issues with excessive volume and vibration, Club Sport systems are not available for all vehicles listed.