Aston Martin Racing
• Aston Martin Vantage GT4 - 2011, In addition to high performance automotive contracts, Larini also undertake a wide variety of motorsport engineering projects (often on a confidential basis). With agreement, we take great delight in wishing the very best to the official Aston Martin Racing team 'Generation AMR' for their season in International FIA GT4 - with their Larini 'Race' equipped Aston Martin V8 Vantage racers.
Tony Shulp, Commercial Director at Aston Martin Racing said: "Racing is a fundamental part of Aston Martin's heritage. We remain committed to developing race-winning cars as well as supporting and encouraging the next generation of race drivers..." To view the team in action at the Silverstone F1™ circuit - Video
• Aston Martin LM (all) - 2012, Aston Martin Racing officially announce Larini as a technical partner for all models at Le Mans.
EVO Magazine
• Ferrari 550 Maranello - In a high-speed 2013 group test of iconic V12 Ferrari's: the 599GTB, 275GTB, Daytona, 550 Maranello, and 575M, the Larini equipped 550 proved it's abilities. When directly comparing the sound and performance of the Larini spec Ferrari 550 to the epic earlier V12 tipos, Jethro Bovingdon wrote, "Breathing fast and free through a Larini exhaust, the 5.5-litre V12 sounds like it's got barely a tenth of the internal friction of the old stagers. Although the numbers say that the 485bhp Maranello isn't that much quicker than the 352bhp Daytona (12.6sec to 100mph for the old timer, 10.1 for the 550), I think the steep inclines and wickedly cambered turns of the Hill Route might just paint a different picture."
• Lamborghini Diablo 6.0 VT - In a 2011 group test of V12 Lamborghini's: the Aventador, Murcielago SV, Diablo 6.0 VT, and Countach QV, the Larini equipped Diablo faired rather well.
When directly comparing the sound of the Murcielago SV to the Diablo 6.0, TopGear TV presenter Chris Harris commented, "... the noise above 6500rpm is unlike any other street car, a shrill, vaguely hollow shriek that penetrates the surrounding air more perniciously than any other car here... Its voice isn't the purest expression of the famous old V12 in this test though. That honour belongs to the 6-litre Diablo and its Larini exhaust – not a combination for the serial introvert."
• Ferrari F355 GTS - Larini 'Sports' System equipped concours vehicle has recently been featured in EVO magazine. The featured Ferrari tipo is a collectors edition, special order only colour example, with Blu Nart paintwork from the Factory in Italy. Former ownership includes the Managing Director of Ferrari UK.
Revered journalist, and contributing editor, David Vivian wrote after testing this F355, "the signature flat-plane-crank scream of the 3.5 litre V8 hits "11" thanks to a stainless steel Larini sports exhaust".
• Lamborghini Miura SV - 2009, Larini 'Sports' System equipped concours vehicle has recently been featured in the EVO magazine supertest with the Lamborghini LP670-SV. The ultra rare right hand drive feature car, formerly owned by famed collector Sir Anthony Bamford, is considered by marque specialists to be one of the best examples in the world at present, having endured one of the most meticulous and perfectionist restorations, and is not for sale under any condition. Naturally, the vehicle is Larini equipped.
Renowned journalist Henry Catchpole commented, "A firework of small explosions crackles from the exhaust as I back off.... The Brecon Beacons echo to the sound of two V12's for the rest of the day. People stop and stare."
• Ferrari Enzo 'Race' - In the 2014 article the magazine push the Larini 'Race' equipped Ferrari Enzo to it's limits versus the all new La Ferrari Hypercar.
• Ferrari Testarossa 'Race' - In a 2013 article the magazine put the Larini 'Race' spec GT Ferrari to the test on road and track. Henry Catchpole writes the owner starts the car revealing," – it's on straight-through Larini race pipes. We need to go one stop along the motorway and after the initial eruption from the exhausts, the Testarossa actually proves very civilised on the M4." Adding,"the lumpy ba-dum ba-dum ba-dum idle sounds for all the world like a CanAm car that has just been fired up in the paddock at Goodwood... With the car being a left-hooker, I'm sitting so close to the tunnel wall that I get the full force of the decibels as they reverberate around the concrete cavern... I've heard some loud cars in my time, but no road car gets close to the physicality of an unsilenced Testarossa."
Finally, "As we roll into the empty paddock at Llandow and park up...''I heard you coming,'' says the track's owner... Llandow is only a small track but it's deceptively quick, with the defining corners being two fast right-handers leading onto the pit and back straights. There's not a lot of run-off, but it's still a significantly better place for exploring the handling characteristics of a Testarossa than a remote road."
• Lamborghini Gallardo - In a 2009 Buying Guide Essentials, the feature states, "The same exhaust system is fitted to '03-'05 cars and incorporates 'noise reduction valves'. These two valves keep the engine relatively quiet at noise-test speeds, but allow for a louder note above 4000rpm... Some cars may have been fitted with aftermarket sports exhausts, with X and Larini the preferred choices."

TheAutoChannel (USA Motoring) Website
• Aston Martin DB7 V12 Vantage - 2007, In keeping with Larini's reputation for expertise with British GT Supercars, senior editor Nicholas Frankl's Portland Green (ex-celebrity) Aston Martin has been equipped with a Larini 'GTE' System, and featured in a review.
Mr Frankl writes... "After quite exhaustive searching I came to the website of a small but rather specialized company, the sort that Britain is famous for and how Lionel Martin stared in the first place. LARINI motorsports are based in London and have been manufacturing fabulous high quality parts for the discerning 'In the know' customers for more than ten years." Adding ... "After chatting with their Technical Director he agreed to send a mandrel bent high performance, stainless steel exhaust system, with a beautiful cross drilled plaque and V12 engraving on the underside – so cool you want to have a mirror affixed to enable the casual passer by to appreciate what a real exhaust looks like. Best of all, it costs a third of the price of the AM dealer exhaust option."
Finishing with the words... "I was not disappointed and nor were the neighbors! The mechanics all broke into broad smiles as I floored it down the road towards Melrose Place, the engine singing as the revs rose, small children diving for cover into shops and the power forcing me back into the seat. After 10 miles in 1st and second gears only, I knew I had made the right decision, this was a transformed car, engine power and responsiveness had been measurably improved and the exhaust note was nothing short of outstanding."
Auto Italia Magazine
• Maserati 3200GT Assetto Corsa - Larini 'Sports' System equipped concours vehicle has recently been featured in the Auto-Italia magazine buyers guide on the GT Supercar. The vehicle featured is considered the best example in the UK, if not the world, and is described as a "highly spec'd multi-concours winning example", and accordingly is for sale with a major premium over other GT's available in the marketplace. Naturally, the vehicle is Larini equipped. Journalist Keith Seume commented, "... it's a small price to pay for such style - and an exhaust note to die for" and "No wonder many people look towards fitting an aftermarket system to their GTs."
European Car Magazine
• Ferrari 360 Modena R - 2008, Heavily modified/track-focused, ultra rare black on black, Larini equipped 360 with manual transmission featured in European Car magazine, Modified Luxury & Exotics magazine, front page of the VIP Modular Wheel catalogue, Falken Tyre's ad campain, and Falken Tyre's website front page... this is surely one of the highest profile Ferrari 360's in North America.
The owner stating, "This vehicle personifies the ultimate in excellence, using the finest components to build a truly one of a kind tasteful Ferrari. This is the only one of it's kind in the USA, and possibly the world."
Motorward (Motoring) Website
• Audi R8 GT - 2014, In an article titled 'Audi R8 GT with Larini Exhaust - Best Sounding V10 Ever?' a track-focused Larini equipped GT featured on the motoring website. Having since been featured in countless articles and websites, this viral success story is surely one of the highest profile Audi R8 GT's on the web.
"During the recent Motor Sportive Day event in France a Suzuka Grey Audi R8 GT attracted a lot of attention, not because of its cool color, or the fact that it's a pretty rare car, but because it was so bloody loud! And it's a beautiful kind of loud; a soulful and musical noise, as befits a super car like the R8 GT.
On closer inspection it turned out this Audi R8 GT is fitted with a bespoke stainless steel exhaust system from Larini. Listen to it in this video... as the V10 waves rip through them! Audi R8 GT is a super special edition of the German super car that is lighter, more powerful, and generally more awesome than the standard R8."
PistonHeads (UK Motoring) Website
• Limited Edition Lamborghini Diablo SV - 2012, In keeping with Larini's reputation for expertise with the Supercars from Sant'Agata, a Larini 'Sports' System equipped lightweight Lamborghini Diablo SV has recently been featured in an article by famed automotive journalist and TopGear TV presenter Chris Harris.
The featured Larini Lamborghini tipo is described thus ... "These are great cars to drive too. Physical, intimidating and very, very fast... Anyone who has heard a Diablo with a Larini exhaust does not forget the experience in a hurry."
• Maserati GranTurismo 4.2 - 2014, Larini equipped Maserati GranTurismo has recently been featured in an article on Haymarket's PistonHeads website.
The owner, who also owns a classic Ferrari, said of his Larini System, "None essential costs; well I did fit a Larini Systems (cat back) exhaust just after I got it which hasn't impacted on the warranty at all and in addition to a considerable weight saving it has significantly improved an already nice sound with plenty of pops and crackles when backing off at higher rpm."

• Track Ferrari 348 - 2011, Larini equipped Ferrari 348 has recently been featured in an article on Haymarket's PistonHeads website. The featured Ferrari tipo is both a fast road and track use example.
Dubai based Mike Brownhill, said of his Larini System, "...the exhaust note from the aftermarket Larini system (highly recommended) is lovely when changing up at 7,400rpm and I have yet to experience any serious reliability issues after 16,000km of spirited driving, new clutch and tyres excepted." With the extreme track temperatures in the Dubai sun that is testamant indeed to the performance of the System.
• Ferrari Mondial T - 2013, Larini equipped four-seater Ferrari Mondial T has recently been featured in an article on Haymarket's PistonHeads website. PHer Mark Jackson, who has also lapped the Le Mans Classic circuit, said of his Larini System, "I also wish I had known just how good a Larini-equipped Ferrari dry-sumped V8 can sound. I wish I had done this years ago... Classic Le Mans though will always remain a highlight for me, specifically the Rouen tunnels and the eight laps of the full circuit..." Going on to add, " ... the scream of the Larini exhausts through tunnels and building canyons is very, very addictive. I love the sense of occasion it brings as well when driving it, especially as so far all other road users have only ever been respectful or filming it. A trip out now means that the family have to be well groomed and dressed just in case."
ClassicCarsForSale (Motoring) Website
• Ferrari 550 Maranello - In a 2016 Review, the feature states, "put your foot down and brace for a relentless slug of lag-free power, accompanied by a chilling howl from the engine... Performance exhausts are commonplace, but you should only consider cars that have been fitted with known brands such as X or Larini... – 5.5-litres of glorious V12 that punches out nearly 490bhp, can sprint from 0-60mph in a smidgeon over 4.5 seconds and will top nearly 200mph. You can actually fit luggage into the boot too. What's not to like?"
CarThrottle (UK Motoring) Website
• Limited Edition Lotus Elise 111S - 2014, In keeping with Larini's reputation for expertise with the Supercars from Hethel, a Larini 'Club Sport' System equipped Lotus Elise 111S has recently been featured in a video review by member Tom.
The featured Larini Lotus model is an ex Lotus development vehicle in a stunning special order green colour and described thus... "It sounds the part now... more extra flow through it and it just sounds fantastic. It kind of crackles, it pops... for me it's the perfect exhaust system on the perfect Elise".
Secret Entourage (USA Lifestyle) Website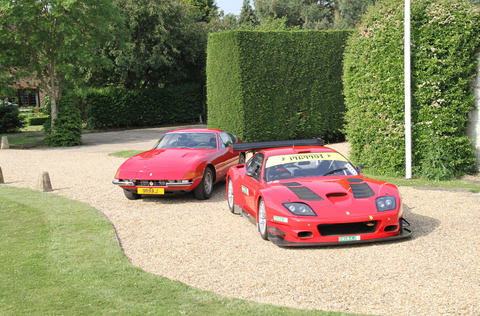 • Maserati Quattroporte GT - 2011, In keeping with Larini's reputation for expertise with the Trident marque, a Larini equipped project Quattroporte has been featured on the lifestyle website. The goal: "The system will be their fully polished quad tip system and will enhance the rear looks while ensuring that crisp Ferrari sound is heard through tunnels everywhere". Once landed, "The exhaust was one of the better priced ones while coming from a reputable exhaust manufacturer who have a history of building awesome exhaust systems for the Ferraris and Maseratis... We finally received the exhaust which immediately struck us as simply beautiful. Fully polished canisters and beautiful tips larger than the factory tips made us feel comfortable with our choice. The exhaust even comes with the letters QP written on the canisters."
After fitment commenting, "The first thing to notice about the exhaust is how beautiful it looks and how well it fits. The noise it makes when you are outside the car is similar to a stock (Ferrari) F430 until you are at WOT at which point it becomes like a Stage 1 F430... the crisp sound remains through all RPMs".
Wilton House (UK Supercar) Event
• Ferrari Enzo 'Race' - 2011, Larini designed 'Race' Pipes (tube only) equipped Ferrari Enzo, wins the trophy for 'Best SuperCar' at Wilton House event. The Larini Enzo saw off competition from all manner of Supercar, including the new Koenigsegg Agera R and Aston Martin One-77. Footage of the Enzo - Video 1 Video 2 Video 3 The winner was selected by a panel consisting of various automotive specialists.
• Ferrari Testarossa 'Race' - 2012, Larini designed 'Race' System (tube only) equipped Testarossa, wins Wilton House Supercars best of trophy. The panel was once more made up of various automotive specialists.
Batman Movie
• 'Batmobile' - 2004, Warner Bros. UK commission Larini Systems design team to construct 'Sports' System for the world's most outrageous vehicle, for use in the 'Batman Begins' movie.